Poway Mansion Shines Brighter with Help from Lightscape Designs
More than 300 fixtures used in the landscape lighting plan
February 13, 2017

This gorgeous, 26,000+ sf private residence is located in Poway, California's exclusive Heritage Estates development. An architectural wonder inside and out, the 39-room mansion features 9 bedrooms and 15 bathrooms. There is also a pool cabana, and a 2-bedroom guest house on the estate. With its manicured lawns, private gardens, and lush landscaping, there are more than 300 different fixtures in the home's dramatic landscape lighting plan that covers 4.5 acres. Installed in 2008 by Mike Geier and his Lightscape Designs team, the luminaires continue to perform at the highest level while creating a timeless ambience of beauty and style.
"Mike had to be very flexible on this job due to the fact that he had to coordinate regularly with a variety of creative professionals," says Ed Earl, of Priority One Projects, the Construction Project Manager for the entire estate. "He had to not only satisfy my expectations, but also the general contractor's, a landscape designer, and a lighting designer who were also on the team. Mike proved to be highly organized, responsive, knowledgeable and didn't require any hand holding, and that's extremely important to me. He is a consummate professional and a true expert when it comes to landscape lighting," says Earl.
More than eight years later, the homeowners remain extremely pleased with their original investment. The fixtures require little to no maintenance due to their top quality construction and proper installation. Mike continues to service the lighting system regularly as part of his maintenance contract with the estate.
The landscape lighting design for this home features top-of-the-line lighting from Carlsbad-based lighting manufacturer Auroralight. Constructed of solid copper and brass, a variety of their high performance pathlights and spotlights were used throughout the property. According to Earl, the homeowners recently looked for ways to reduce their enormous electricity bill without having to compromise the overall look and feel of the home. Mike suggested they take advantage of an LED retrofit with the existing Auroralight fixtures. This one change will significantly reduce the amount of energy used from 7000 watts per month to just 1000 watts.
"This is another example of Mike's solutions-oriented service style," says Earl. "We couldn't be happier with his work."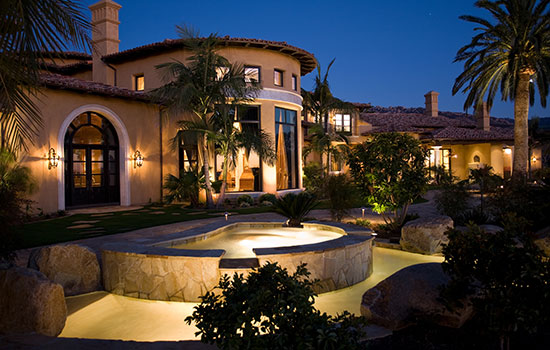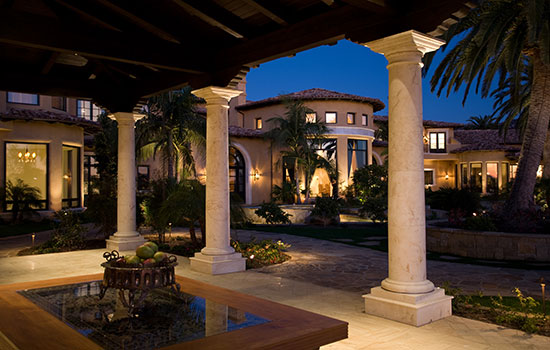 Project Manager:
Ed Earl
Priority One Project Management
www.PriorityOneProjectManagement.com
Lighting Designer:
Dianne Sheridan Designs
www.diannesheridandesigns.com
Landscape Architect:
Catherine Cole
Antiqua Design Studio
antiguadesignstudio@gmail.com
Lighting Manufacturer:
Auroralight, Inc.
www.auroralight.com